Today we are praying for a largely forgotten group of people who are suffering tremendously under their leaders and governments: The persecuted church. We may forget them, but I assure you that the Lord does NOT. They are very dear to his heart.
About 215 million Christians are being persecuted due to their faith, according to a report released by the Open Doors organization. In other words, that means 1 in every 12 Christians live where Christianity is "illegal, forbidden, or punished." The most dangerous place to be a practicing Christian is in North Korea. There is also a high level of persecution against Christians in the Palestinian Territories, the World Watch List report showed. The majority of the countries on the list saw an overall increase in persecution from 2016 to 2017.
It's not getting better, it's getting worse.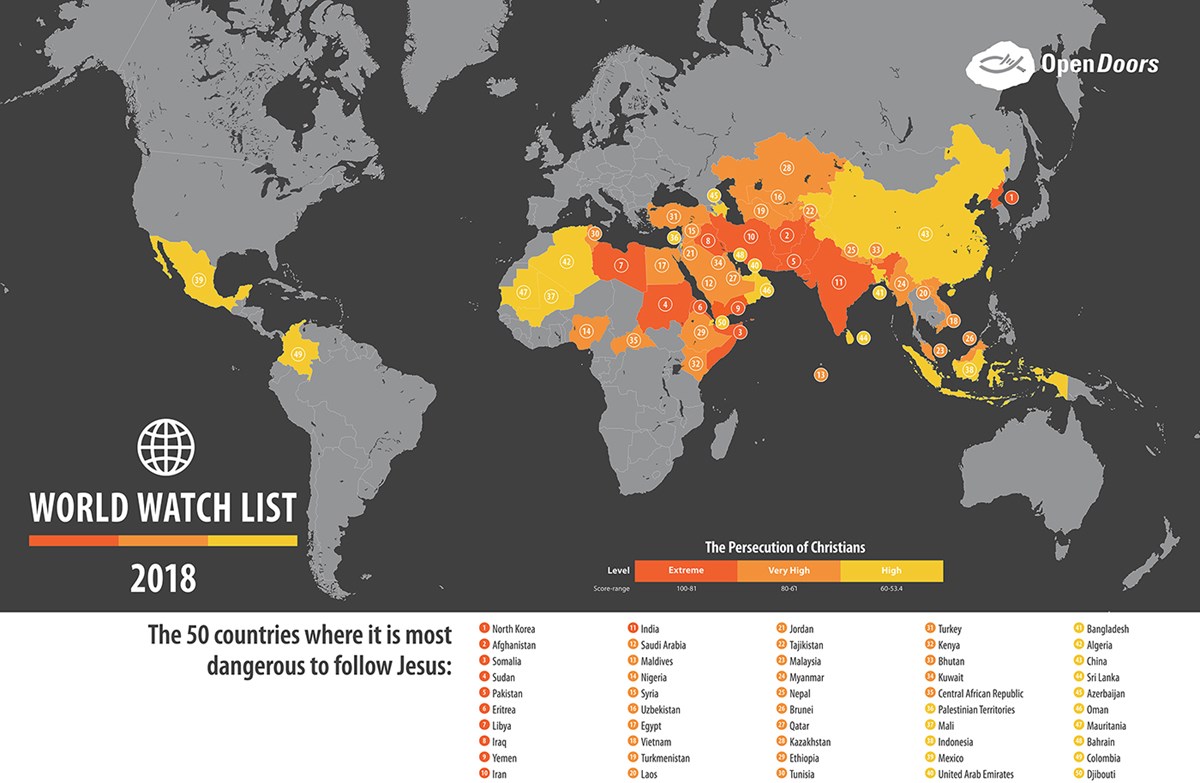 It's hard to believe living in North American that this is still an issue in 2018 right?
"Every day six women are raped, sexually harassed, or forced into marriage to a Muslim under threat of death due to their Christian faith," Open Doors reported. This number is likely low, since it includes only reported incidents. In North Korea alone there are more than 50,000 Christians in prison or labor camps.
And yet life in North America seems to go on as normal. Christians are (relatively) left alone, free to worship and live in peace. Some would argue that our rights are slowly being taken away, many fear for the future.
But we are not called to fear these things, we are called to PRAY!
"We are pressed on every side by troubles, but we are not crushed. We are perplexed, but not driven to despair. We are hunted down, but never abandoned by God. We get knocked down, but we are not destroyed. Through suffering, our bodies continue to share in the death of Jesus so that the life of Jesus may also be seen in our bodies. Yes, we live under constant danger of death because we serve Jesus, so that the life of Jesus will be evident in our dying bodies. So we live in the face of death, but this has resulted in eternal life for you. But we continue to preach because we have the same kind of faith the psalmist had when he said, "I believed in God, so I spoke." We know that God, who raised the Lord Jesus, will also raise us with Jesus and present us to himself together with you. All of this is for your benefit. And as God's grace reaches more and more people, there will be great thanksgiving, and God will receive more and more glory. That is why we never give up. Though our bodies are dying, our spirits are being renewed every day. For our present troubles are small and won't last very long. Yet they produce for us a glory that vastly outweighs them and will last forever! So we don't look at the troubles we can see now; rather, we fix our gaze on things that cannot be seen. For the things we see now will soon be gone, but the things we cannot see will last forever." 1 Corinthians 4:8-18
As you turn your thoughts to Jesus, think about his sacrifice and all he went through for us. He was tortured, beaten, mocked, spat upon, and finally, killed in the most gruesome way possible. And yet, he loved those who crucified him. I am in awe of this man. He said: "Father, forgive them!" He went through it all to pay for your sin. For mine.
Thank you Jesus! We can never thank you enough. You paid it all. You took my punishment, my place on that cross.
Pray for your family. Are they saved? Are they struggling? Oh, that they would know this love, that was willing to die. Oh that they would encounter the one who millions of people around the world are willing to die for!
-Pray for protection for the churches across the globe, for laws to be made to protect religious rights and freedoms.
-Pray for those who have lost homes, jobs, loved ones for the sake of Christ. Pray that God would fill the deep void with his love joy and peace. May they truly experience God's supernatural peace in a deeper way than ever before.
-Pray for their basic needs to be met daily.
-Pray for those locked up in prisons cells to feel God's nearness. May they not feel alone, but strengthened in the knowledge that God has promised to NEVER leave them nor forsake them.
-Pray for those who have been rejected or abandoned by family members to be surrounded with a new family, the family of God. Pray for healing from the deep pain of rejection.
-Pray for a specific countries on the persecution list as God lays them on your heart.
-Pray for those being tortured day after day to have miraculous protection and strength from God. For the gates of prisons to be opened supernaturally. For healing to their bodies. For restoration of muscles and bones.
-Pray for the word of God to spread quickly in these countries. For people to come to God in large numbers.
-For for Bibles to become available to those who yearn to read God's word. May their hunger be filled.
-Pray for believers who have been mistreated, imprisoned, struck down, persecuted, that they would find the grace to forgive and even love their enemies. May soldiers and officers become so amazed at the difference in their lives that they too turn to Christ.
Remember these brothers and sisters in their suffering. May I never forget them in my prayers! One day, it could be my country, it could be my family, it could be me.